Parquet: everything starts from the tree, so it has a lot to tell

That is why it makes little sense to expect all pieces to be the same. Knots, grains and flames reveal the story that makes your floor unique and unrepeatable.

It happens, sometimes, when dealing with customers, to receive the most disparate requests. Surely it has happened to many of you reading. It happens also in our field: no exception. But that's right, the beauty of being artisans is also that, if necessary, to customize the product to the customer's taste, even in the smallest details.

That's what we do and we like to do it with passion. However, among the many requests we receive, there is one that often gives us a small heartache: "Is it possible to make sure that in all the rooms it is the same and there are no defects?". . . and perhaps with the finger we see two flames with slightly different fringes or a pretty knot that we had cuddled when making the sample for the presentation.
So we begin to try to understand better what the customer means by asking us this question and, very often - too often - we realize that it seems that at a certain point, the awareness that parquet was in origin a tree, has been lost somewhere, misteriously…
Every tree, like all living things, does not grow according to a certain mathematical rule. That those that some call flaws are moments of plant life. And that there are no two identical trees. That maybe they tell us if it has grown in the cold or in a soil rich in water. If it was rooted in windswept areas or if it grew quiet and sheltered.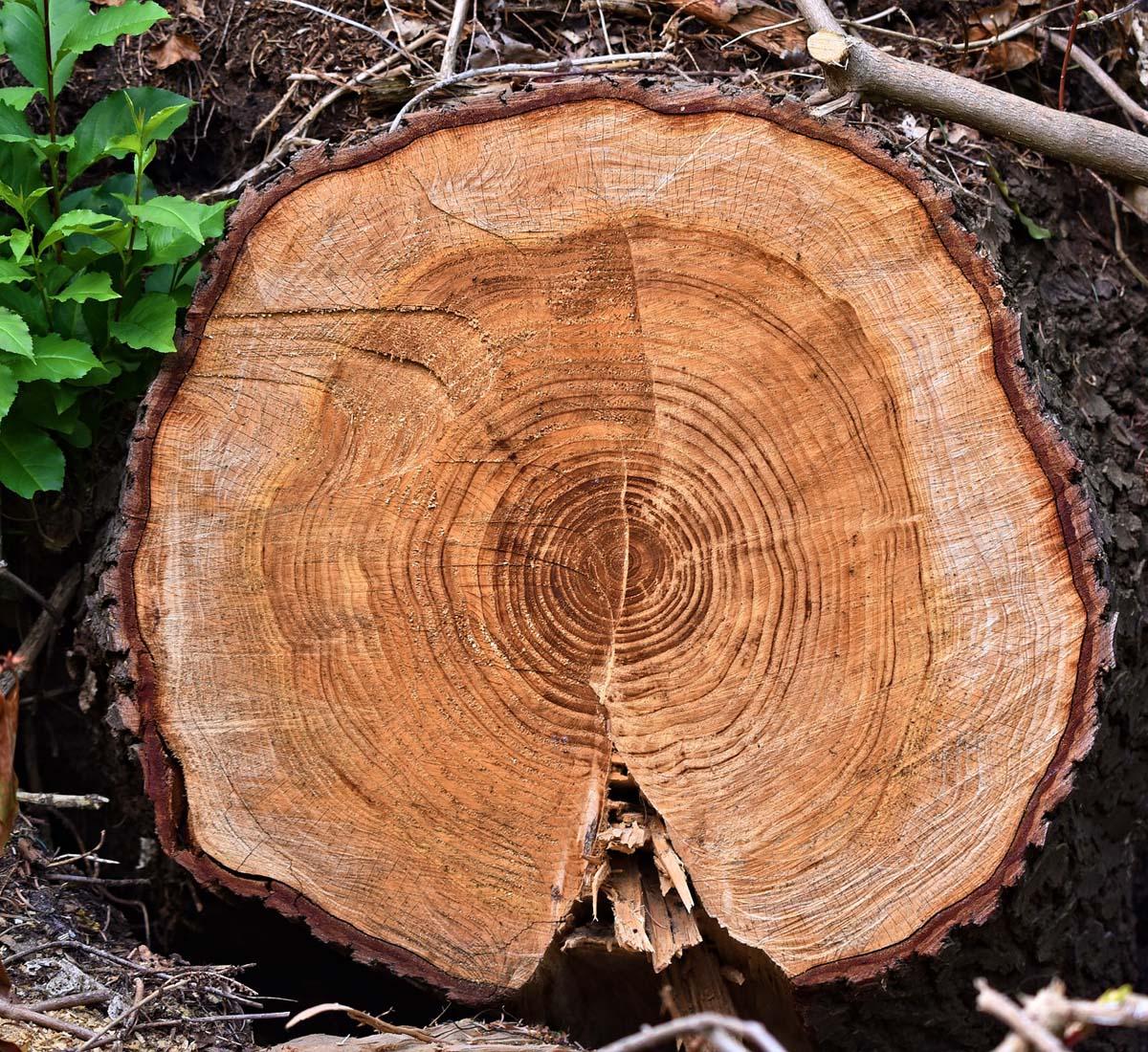 A knot, for example, tells us that - at that precise point - a branch was once born. And if we know how to look better, its shape will also tell us how long that branch was born and how close to the bark was the point we are looking at.
Similarly, the grain is a sort of identity card for the different tree species. Each essence is characterized by a specific grain, which is its own characteristic: for example pear and apple tree show a fine grain and a uniform chromatic distribution. Other wood species like fir and beech tree are usually characterized by a quite regular grain: cherry and walnut, on the contrary, show intense, irregular flames, used often by those who appreciate to create peculiar designs.
We want you to show below some images of floors made with woods that present those that are sometimes called defects, to show you that - after all - it's all down to everyone's taste and we are sure that many will find them beautiful. To ask for a perfect copy of wood appearance is a bit of a contradiction for those who want to enjoy the beauty of this material in their home. The demand for pieces that are all the same is more suited to wood-effect stoneware or laminate. Wood on its side needs to express itself in its natural variety of form, as it is a living matter.
The choice between a wooden floor characterized by strong shades of colors or, in a different way, where the color is substantially harmonious, this depends on the customer's taste. But the 10sqm in the living room will never be identical to the 10sqm in the bedroom.
The reference European classification divides the wood with indication to the homogeneity of its appearance: the same legislation provides and regulates as well the color, the presence of knots, shades and splits, as characteristic parts of the material, even of the selection which is called "first grade".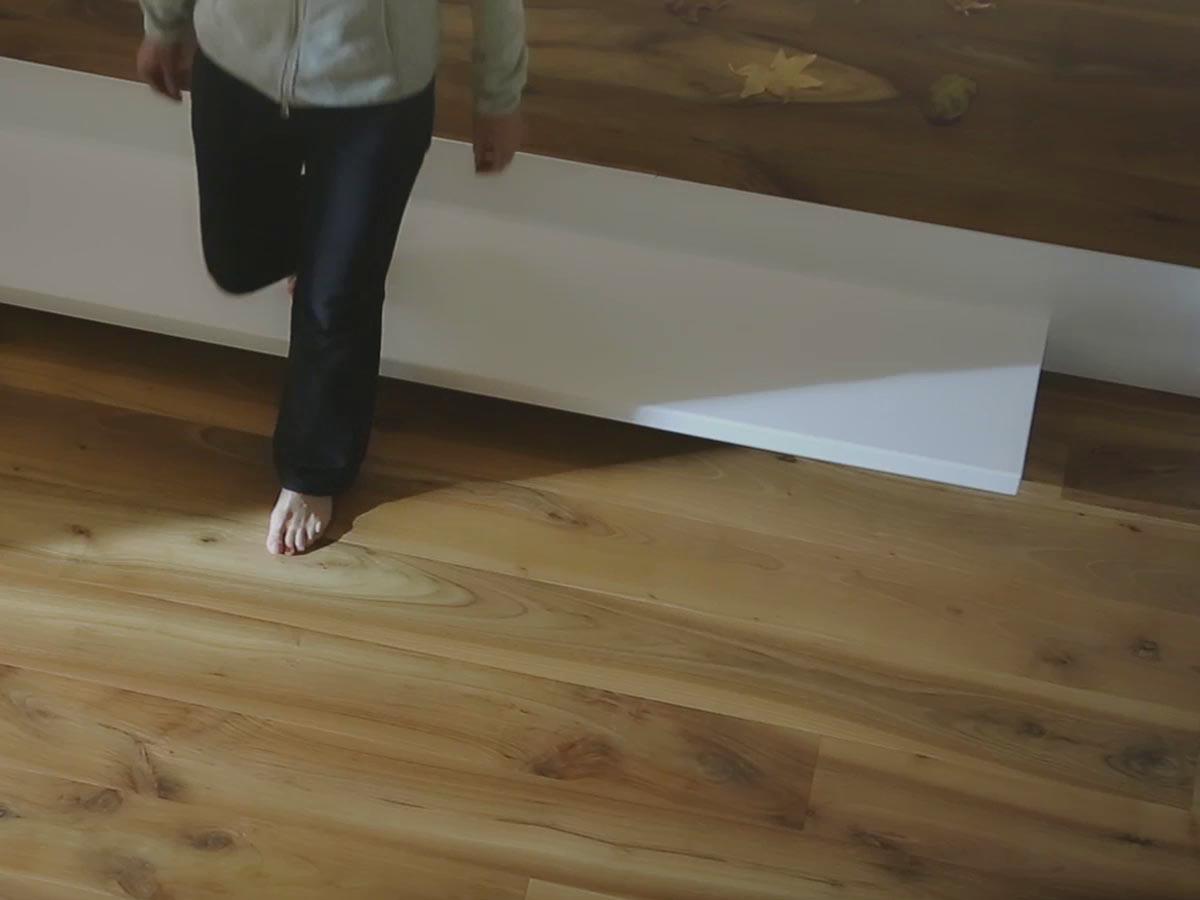 This is an oiled Walnut floor rich in knots, flames and different color shades.
Yet it is beautiful; there is to be lost in seeing the thousand ways in which light is reflected, following the drawings. Two identical axes? Impossible here.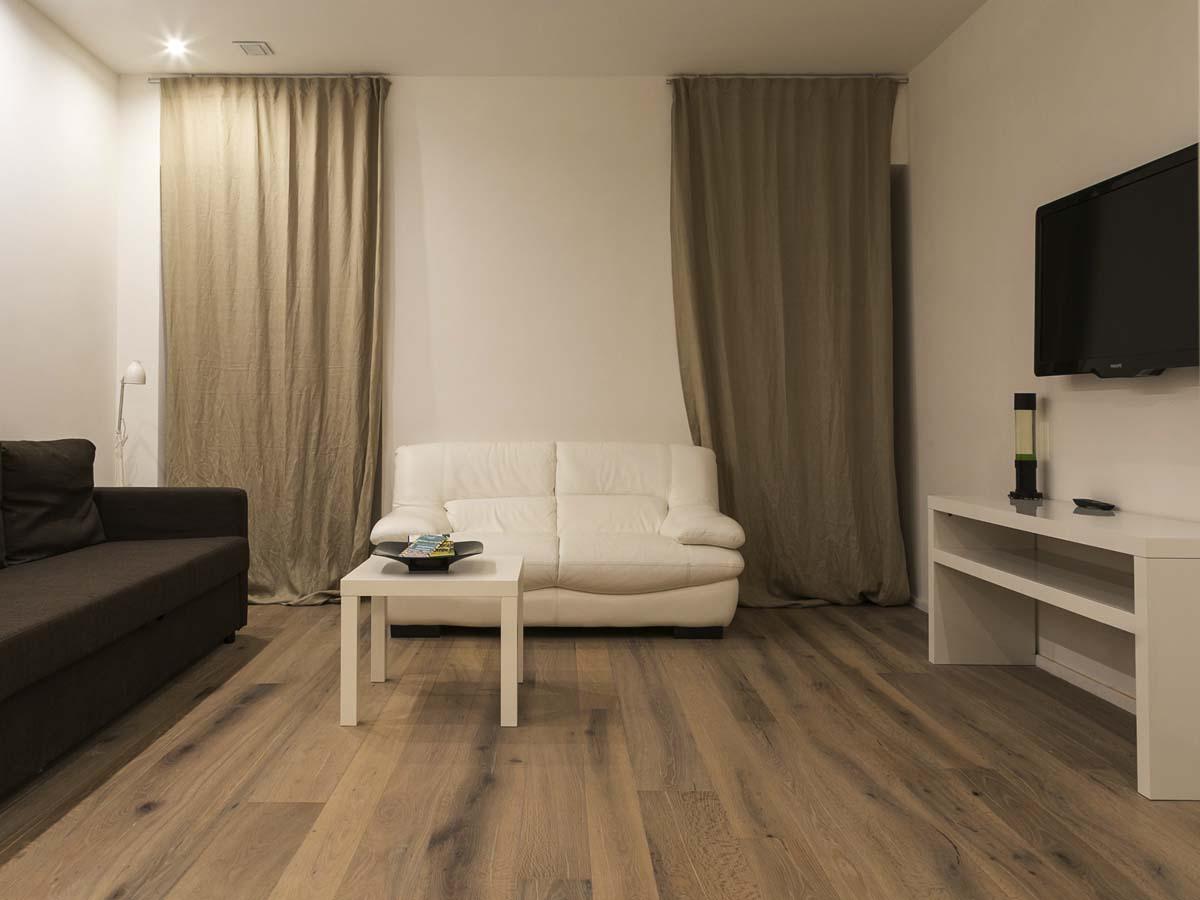 And what about the visible shade variety of this floor made of Turkey Oak (variety of Oak) installed in a house in Rome?
This floor give the room a vitality that could hardly be achieved with a homogeneous colored woods. The strength of this furnishing project lies indeeed in the contrasts of wood's shades.
Another wonderful floor made of natural oiled Elm, for a home in the Treviso area.
Sapwood (the softest part of the trunk) is technically identified by the legislation among the elements that cannot be present in the first grade selection. And for some types of wood species ( i.e. oak ) it is not advisable. Other wood species, on the contrary, as in the case of Elm, look at the wonderful play of contrasts that it can create. No artificial bleaching, but only the "imperfect" work of natural growth.